CAREERS
Do you want a vantage point on IP issues?
Kolster Oy Ab, which was established in 1874, is one of Europe's most experienced companies specialising in intellectual property rights and legal services. Our customers include large companies, medium-sized growth companies, and innovative start-ups with global operations. We employ over 100 IP experts in Helsinki, Tampere, Vaasa, Seinäjoki, Oulu and Kuopio – and outside Finland in Shenzhen in China and in Munich in Germany.
OPEN SEARCH
We want Kolster to be "the best workplace to develop as an IP professional". If you are interested in a career at Kolster, don't hesitate. Send us your informal application. We are always on the lookout for the best IP sector talents to join our team, and your competence profile may very well match our needs. We offer modern working premises and equipment, and the opportunity to work flexibly.
You can send your open application to address rekry@kolster.f
We will continue our recruitment drive in 2020 – we offer innovative-minded IP experts, such as patent attorneys, a range of challenges.
MANY CHALLENGES TO DEVELOP AS AN IP PROFESSIONAL
Our extensive customer base, ranging from the world's largest companies to local start-ups, provides experts with the opportunity to tackle a diverse range of challenges and develop into IP professionals. Internationalism is a strong part of our day-to-day operations. During its long history, Kolster has built a unique international cooperation network through which we work closely with customers and partners throughout the world. A total of 65 % of our customers are international companies: our customers include 26 % of Fortune Global Top 100 companies and 31 % of the world's best-known brands on the Forbes 100 list. The Chinese market is a strongly growing business area, in which we operate as an IP partner for Chinese companies and international enterprises entering the Chinese markets.
CAREER PATH STORIES
Leaping into the unknown paid off – IPR turned into a new profession for an electromechanics expert

Pekka Ristikaarto from Oulu exchanged his over ten-year career as a designer and specialist at Nokia for the profession of a patent attorney. Now he has two years and some twenty patent applications under his belt and is taking advantage of everything he learned previously in his current role.
Measurements and mathematics increasingly important in protecting inventions

In addition to industry, measuring technology is now gaining importance in various consumer products. In order to ensure the best possible protection for inventions in these sectors, IPR experts must know their way around measuring technologies and mathematical formulas. European Patent Attorney Arto Karppinen, if anyone, knows them from top to bottom.
The secrets of successful patent applications – revealed by a 35-year veteran of the IPR industry

Patent Attorney Klaus Roitto has worked at Kolster since 1984. From his long career, he looks back with particular fondness on the inventions that still are used and can be seen in everyday life. But Roitto is still learning new things – most recently how to get faster knowledge of the patentability of an invention for which a patent application has been filed first in the USA.
Legislation, legal practice and the world are in a constant state of renewal – the IPR lawyer develops his expertise at the same pace

IPR lawyer Hannes Kankaanpää makes an agile transition from consultant to project manager, as job descriptions at the Kolster Legal unit match the scope of each person's expertise. Courage and the desire to explore things are needed when serving creators of new technologies and products.
IPR expert can see to the core of companies

You cannot graduate as an IPR expert straight out of school. Experience is essential to understanding the customer. Studying provides a good foundation, but Senior IPR Business Manager Timo Joutsenoja knows that success requires rolling up your sleeves and gaining experience on the field.
A patent attorney's most important tool is the ability to listen

European Patent Attorney Kati Vesterinen gets excited by good inventions. An IPR professional must listen to the customer carefully and know how to describe their idea in writing so that the created patent can handle even the toughest scrutiny.
An ordinary patent attorney is a bona fide whiz with words

Ari Parta, European Patent Attorney and director of Kolster Helsinki Patents unit, thinks that he is "completely ordinary". However, verbally describing new inventions in patent applications requires an exceptional amount of technological expertise and patience.
European Trademark and Design Attorney demonstrates professional skill
For European Trademark and Design Attorney Kristiina Kaislisto, client trust is a grain of gold that must be earned through interaction and professional competence. Ready-made attorneys do not pop up from schools; instead, they are raised to become professionals.
The opportunity to work with customers is what tempted this organic chemistry expert to return to Kolster

As a patent attorney and chemist, what Krister Karlsson enjoys most of all is working closely with clients. Even though his work as a technical judge for the Market Court spanned the whole field of patenting, it was the customer-centric work at Kolster that drew him back.
Patenting visionary creates valuable works for the patent portfolio

European Patent Attorney Kati Leinonen puts good research and development and high-quality patent writing at the centre of patenting. When she translates inventors' ideas into legal language, she bears the responsibility for the patent applications generating return on investment for business: patents that can withstand the test of time.
Designs, brands and dispute resolution at the heart of IP Lawyer's work

Master of Laws trained on the bench, IP Lawyer Heli Hietamies first specialised in design protection, expanded her expertise to trademarks and now utilises her diverse skills as a protector of IP rights and solver of conflicts. She fosters the brands of her clients with the perseverance of a useful plant gardener.
Kolster as life's work, family as life's centre

It is Kim Kolster's turn as the Chairman of the Board of Kolster to carry the baton of the family-owned business while cherishing traditional values in the middle of changes. Being a forerunner and international plays the key role, but at the centre of it all lies the family.
Science and art combined in the work of an IP veteran


Timo Pykälä was the first Finn to pass the examination of the European Patent Attorney and is a person really skilled in his own profession. At work, he often makes progress through stupid questions.
Virtuoso of new technologies powered by challenges

European Patent Attorney Sini-Maaria Mikkilä steers Kolster's Tampere office. She finds problem solving refreshing, enjoys close cooperation with customers, cherishes the spirit of the work community − and clears her mind by knitting.
IP specialist from northern Finland enjoys team play

European Patent Attorney Sami Aromaa, the head of Kolster's Oulu office, knows the patenting of technologies inside out and is fully aware that a customer these days buys an IP partnership, not just services.
Patent attorney is a risk analyst
European Patent Attorney Ossi Huhtanen is an experienced IP professional and strategist as well as a risk analyst. He is Kolster's most experienced solver of patent disputes at the European Patent Office and a developer of our international IP partner network.
IP lawyer helps customers succeed

Maria Ojala joined Kolster as an IP lawyer immediately after her university studies. She specialises in matters concerning trademark infringements and unfair competition, as well as marketing law.
Europe-expert handles patents from ICT to concrete

European Patent Attorney Marjut Honkasalo affects the future of the IP sector in European organisations. As a patent attorney, she has the keys to protect products and services of many fields.
IP Specialist building bridges between China and Finland

For Kolster China Desk™ IP Specialist and Business Development Manager Zhangping Wu, challenges are only exciting opportunities, and Finnish "sisu" makes all the difference. China is the future of the IPR field, but the road to success requires unyielding effort and a dedicated mediator.
Asia specialist helps you succeed in the Chinese markets

Jani Kaulo's job is to run Finland's only IP-related China Desk at Kolster. It opens doors to China, helping European companies to make efficient use of their intellectual property in the market.

Read more

To the patent specialist, quality comes first

During his career, Antti Plathin has accumulated a remarkable combination of experience in the patent sector. The expertise of this top patent professional is further complemented by his specialisation in design rights.
A legal design expert polishes contracts and commercialises ideas

Sanna Häikiö knows how a company's contracts and intellectual property are harnessed for business growth. As a lawyer at Kolster, she also develops new kinds of legal services.
Patent attorney protects the latest innovations in ICT

Joni Vehmas made the switch from a researcher in radio science to a patent attorney at Kolster, and now enjoys daily challenges and diverse customer contacts.
The developer of pharmaceutical innovations in the world of patents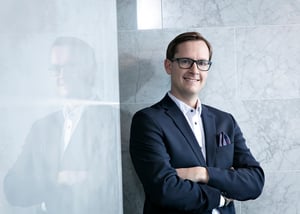 In his work at Kolster, Gustav Boije af Gennäs promotes intellectual property rights and draws from his world-class experience as a researcher in the field of pharmaceuticals.